4 OpenCart Extensions You Need to Know About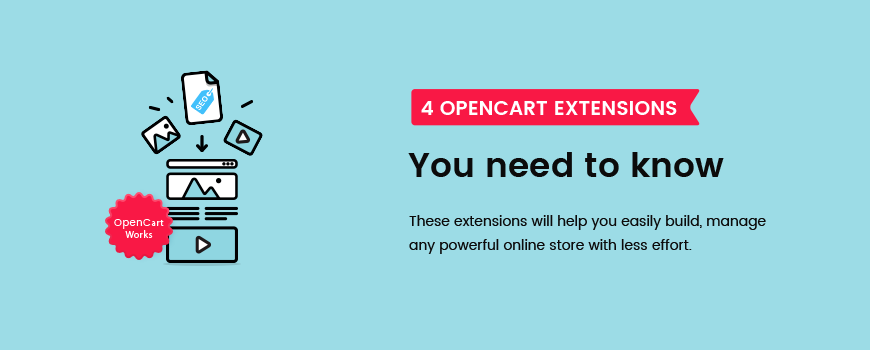 When you create a new OpenCart store, adding new features and customization is so exciting - everyone likes to see their website grow. Although OpenCart comes with tonnes of features already available by default in the free download, every eCommerce store is different and has different requirements.
There are many
useful OpenCart Extensions
available on the internet, the OpenCart developer community have made it really easy for you to customize your store at a low cost. We've chosen 4 handy, widely used extensions which can help add a range of new features to your store.
SEO Pack Pro by privatemtx

Search Engine Optimization, or SEO for short, is extremely important for getting your store shown in search results.The seemingly never-ending list of ways to improve SEO can be time consuming; particularly if you don't have development experience.
The
SEO Pack Pro module
is packed full tools to help you quickly and easily get your store up to scratch. Multi-language SEO, pagination, canonical tags, meta data generation and more - SEO Pack Pro gives you the freedom to improve your website's SEO without any development experience. With over 3,300 sales to date and a 5 star rating on the
OpenCart Extension Store
, this is definitely a module that you should consider for your OpenCart store.
Available for OpenCart versions: 1.5.4 to 2.3.0.2
Find out more about SEO Pack Pro
ExcelPort by iSense

Whether you're moving your store over to OpenCart for the first time or you simply want to take a backup of your store's data, ExcelPort makes it incredibly easy to export and import data from your store via an Excel file.
ExcelPort is particularly useful if you have hundreds or thousands of products, categories and customers. With one click you can bulk export or import products, categories, orders, customers, customer groups, options and more - significantly reducing the amount of time you'll have to spend listing and adding data to your store.
Available for OpenCart versions: 1.5.1.3 to 2.3.0.2
Find out more about ExcelPort
OpenStock by welfordmedia

Product options are a handy way of including variations in your products. Colors, sizes, patterns; options allow you to reduce the number of product listings your store has and makes it easier for your customers to see all variations. But, how can you keep track of stock for each variant? That's where OpenStock comes in.
OpenStock allows you to assign stock values to each individual product option of a product, rather than just stock for the single product itself. This handy tool not only makes it easier for you to keep track of exact stock levels on your store, but also allows you to see which of your product variations is performing the best with your customers.
Available for OpenCart versions: 1.5.1.3 to 2.3.0.2
Find out more about OpenStock
Ajax Quick Checkout by Dreamvention

If your key focus for improving your store is the checkout, then the Ajax Quick Checkout module will be perfect for you. This module moves all of the checkout steps onto one single page; reducing the number of steps your customer has to go through and helping improve cart abandonment rates.
The Ajax Quick Checkout module even gives you the freedom to change the order of the sections, add 1 to 3 columns and hide certain fields and options. It's even responsive and includes social logins, making it ideal for stores with lots of mobile users.
Available for OpenCart versions: 1.5.2 to 2.3.0.2
Find out more about Ajax Quick Checkout
Still looking for the perfect extension to complete your OpenCart store? Visit the our store to view our full free & premium OpenCart extensions.